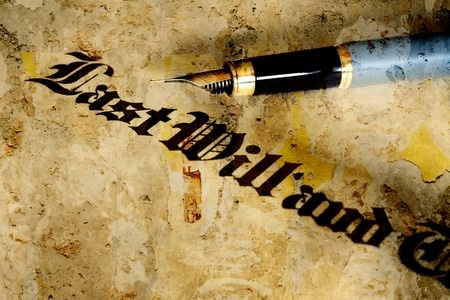 In a Florida Probate proceeding one of the principal guiding aspects of the law is to give meaning and intent to the desires or wishes of the decedent.  Therefore the case law interpreting will provisions in Florida is construed to favor the intent of the decedent where possible.  One challenge that occurs is when a testator (person writing will) fails to update their estate planning documents to account for a divorce.   Florida Stat. 732.507 of the Florida Probate code provides some guidance:
732.507 Effect of subsequent marriage, birth, adoption, or dissolution of marriage.—
(1) Neither subsequent marriage, birth, nor adoption of descendants shall revoke the prior will of any person, but the pretermitted child or spouse shall inherit as set forth in ss. 732.301 and 732.302, regardless of the prior will.
(2) Any provision of a will executed by a married person that affects the spouse of that person shall become void upon the divorce of that person or upon the dissolution or annulment of the marriage. After the dissolution, divorce, or annulment, the will shall be administered and construed as if the former spouse had died at the time of the dissolution, divorce, or annulment of the marriage, unless the will or the dissolution or divorce judgment expressly provides otherwise.
The failure to update your estate plan after divorce will thus automatically create a scenario where the named spouse is artificially treated as though he or she has predeceased the decedent.  This may or may not completely alter the intended distribution scheme in the Last Will and Testament so understanding how your documents will be construed or simply drafting a codicil to clearly specify your intent is crucial and can save your family the expense of unnecessary probate litigation. (more…)