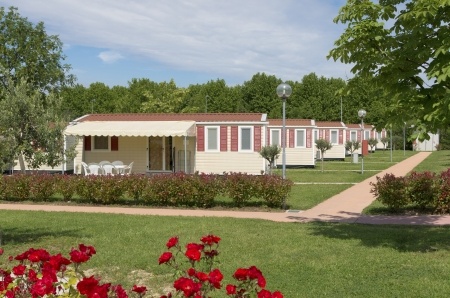 Florida law requires that the transfer of mobile homes in most cases be done through transfer of a certificate of title.  The applicable Florida statute, Fla. Stat. 319.So22(1) provides:
(1)Except as provided in ss. 319.21 and 319.28, a person acquiring a motor vehicle or mobile home from the owner thereof, whether or not the owner is a licensed dealer, shall not acquire marketable title to the motor vehicle or mobile home until he or she has had issued to him or her a certificate of title to the motor vehicle or mobile home; nor shall any waiver or estoppel operate in favor of such person against a person having possession of such certificate of title or an assignment of such certificate for such motor vehicle or mobile home for a valuable consideration. Except as otherwise provided herein, no court shall recognize the right, title, claim, or interest of any person in or to any motor vehicle or mobile home sold, disposed of, mortgaged, or encumbered, unless evidenced by a certificate of title duly issued to that person, in accordance with the provisions of this chapter.
In most circumstances (unless title transferred by a manufacturer or by operation of law) you will want to see the certificate of title and get a transfer of such certificate so that you can obtain marketable title to the mobile home.  The Florida Supreme Court has provided a strict interpretation on the above referenced statute, with the only notable carve out coming from a scenario where a bona fide purchaser in good faith purchases from a dealer of mobile homes and takes possession but cannot obtain transfer of the actual title.  For more see In Re Orange Rose LLC 8: 10 -bk-24856-MGW.
There should be a unique title document for each section of your mobile home.  If you obtain financing for the purchase of the mobile home, the lienholder will retain the title to the property until you pay off the lien.  Otherwise, if you pay cash or the full price for the mobile home, title will be issued to you by the Division of Motor vehicles in Tallahassee.
If you have also purchased or own the real property upon which your mobile home will sit, you may "retire the title" and turn in the title to the DMV and instead simply pay taxes on real property and have it taxed by the county tax assessor like other homes.   Alternatively, if you are renting the land or it is not permanently attached to the land, you are simply responsible for purchasing and displaying a decal for registration of the mobile home for each section each year.
Mobile home liens are governed in part by Fla. Stat. 319.27(1) which provides:
(1)Each lien, mortgage, or encumbrance on a motor vehicle or mobile home titled in this state shall be noted upon the face of the Florida certificate of title or on a duplicate or corrected copy thereof, as provided by law; however, this section does not apply to any security agreement, retain title contract, conditional bill of sale, chattel mortgage, or other like instrument covering any motor vehicle or mobile home floor plan stock of any licensed dealer. Except for the recording of liens upon motor vehicles or mobile homes for which no Florida certificates of title have been issued as provided in subsection (3), the department shall not be a recording office for liens on motor vehicles or mobile homes.
Before purchasing a mobile home make sure that you have examined the current title to examine whether existing liens exist that would prevent the transfer and that the seller actually holds title.
Disclaimer:   The information contained in this blog/website is for informational purposes only and provides general information about the law but not specific advice.  This information should not be used as a substitute for advice from competent legal counsel as laws change and the facts in your specific case need to be analyzed.